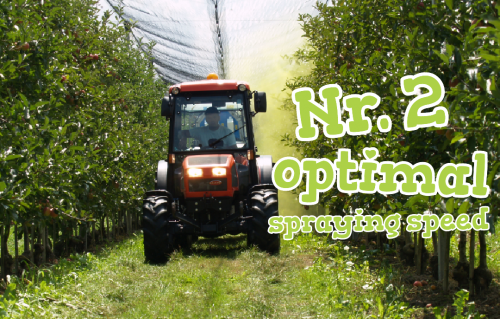 We chose the cultivation with GALA and Jonagold apples. The cultivations were very different. Gala cultivation had a shape of »narrow spindle« and 1 m of between trees in a row. The Jonagold cultivation had a shape of "modified wider spindle" with 1,5 m between trees in a row. Both cultivations had 3,5 m row width, were covered with anti-hail net and were trimmed with machines. The cultivations were connected with each other so we drove from one cultivation into another without changing the driving speed. We carried this test in beginning of August, when the apples were already fully formed and the "green wall" had a full volume.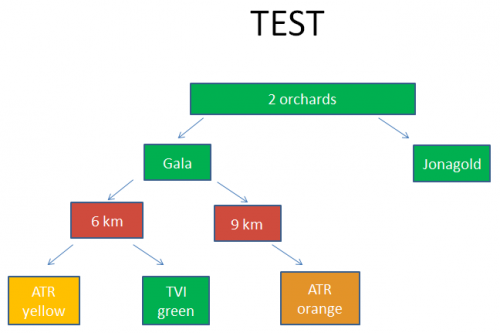 The theoretically primary driving speed was 6 km/h and the increased driving speed was 9 km/h. The realistically measured speed differed a little bit from the plan, because of different gear ratios. So we achieved the primary speed 6,48 km/h and increased speed 9,28 km/h.
The speed of the tractor adapts to the terrain. The speedometers of tractors usually aren't exact so it is recommended to control them. We do this by 100 m test: this means that we drive 100 m with working speed and working turns and we measure the time needed for doing this. It is important to have full working speed at the start of 100 m.
We used trailed sprayer with 1500 l tank and axial fan. The machine used for test was a modern sprayer, with 18 nozzles, 2 fans with diameter 500 mm and 600 mm and it sucks air from the back and front.
We used following nozzles: at 6 km/h yellow Albuz ATR nozzles and at 9 km/h orange Albuz ATR nozzles. We also carried out separated test with 6 km/h where we used anti drift nozzles Albuz TVI green.
Do you want to know more about the test? Follow our Facebook channel and read this next week.
Zupan Sprayers wish You a nice and successful day.