Smo na točki v zgodovini, ko se bodo prihodnje generacije morda spraševale (če se bodo, spranih možganov), zakaj nihče ni storil ničesar, da bi preprečil, da bi nas vlada vodila v avtoritarno, distopično realnost s predlogom "zakona o policijskih ukrepih", ki daje preveč moči v roke države.
Razen peščice drugače mislečih smo to dopuščali, a to je čas, ko se moramo proti temu boriti, zavzeti se moramo in spregovoriti, preden tega pravno ne moremo storiti.
Zasmehujejo nas
Država se še vedno spopada z drznostjo vlade, ki se je udeležila božičnih zabav na številki 10, medtem ko so ljudje spoštovali pravila o koronavirusu, zaradi česar so se mnogi počutili izolirane od družine in prijateljev.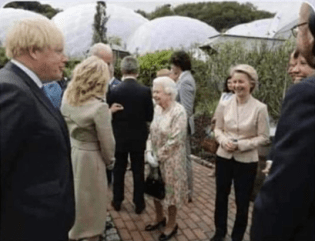 Rekli so nam, naj še posebej zaščitimo starejše; kraljica je bila na dogodku G7 stara 95 let in tudi ena najbolj "zaščitenih" ljudi na svetu.
Čeprav je jeza seveda upravičena, je šok javnosti presenetljiv.
Vlada nam že od začetka epidemije dokazuje, da se sami ne bojijo COVID-a in jim zato ni treba spoštovati lastnih pravil.
Videli smo očitne prikaze njihovega kršenja pravil, od norčij Neila Fergusona v postelji z njegovo ljubico, obiska Cummingsa na gradu Barnard, do dogodka G7, vključno s koktajlom junija 2021,
kjer so svetovni voditelji prezrli pravila socialne distanciranja, nošenje mask in njihovo sporočilo »reši babico«.
Ne samo, da bi to moralo opozarjati ljudi na dejstvo, da se tisti, ki postavljajo pravila, sami ne bojijo virusa, ampak bi jih morali tudi jeziti.
Po besedah novinarja in avtorja Double Down News Georgea Monbiota
»Tako deluje diktatura in mi v tem trenutku drsimo proti njej.
Motiv diktature je, da obstaja eno pravilo za elito in popolnoma drugo pravilo za ljudi."
Nadaljuje: »V tej državi imamo situacijo, ko se iz nas premier in njegovi sopotniki norčujejo, saj se držimo pravil COVID-a, sami pa jih ignorirajo in se nam smejijo v obraz, medtem ko to počnejo, vsiljujejo najbolj drakonsko zakonodajo v živem spominu na nas ostale«.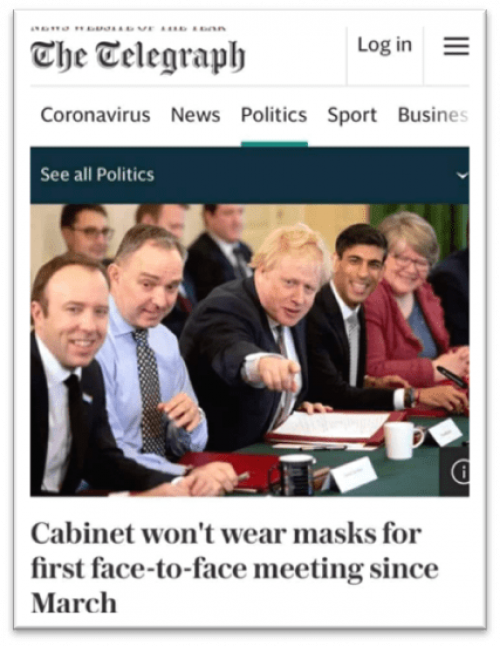 Predlog zakona
Drakonska pravila, o katerih govori, so zakon o policiji, kriminalu, kaznih in sodiščih, ki je trenutno v branju v parlamentu.
Predlog zakona, ki bo, če bo sprejet, policiji dal široka pooblastila, kar bi lahko pripeljalo do scenarijev, ki bi bili primerni za distopični roman, zaradi tega, kar Amnesty UK imenuje "razširitev policijskih pooblastil brez primere", ki bi dala preveč moči v roke državi.
Vlada ima pet zakonskih predlogov, za katere upajo, da jih bodo uresničili, o katerih trenutno razpravljajo:
razširiti obseg pogojev, ki jih policija lahko naloži zborom (statični protesti), da bi ustrezali obstoječim policijskim pooblastilom za uvedbo pogojev za shode;
znižati element krivde za prekrške v zvezi s kršitvijo pogojev za protest katere koli vrste;
razširiti nabor okoliščin, v katerih lahko policija protestom (spet ne glede na vrsto) postavlja pogoje;
nadomestitev obstoječega prekrška običajnega prava javnega predloga z novim zakonskim prekrškom, kot ga je priporočila Pravna komisija leta 2015; in
ustvariti nova pooblastila za zaustavitev, iskanje in zaseg, da bi preprečili resne motnje, ki jih povzročajo protesti.
Ukrepi v predlogu zakona bodo policiji omogočili "proaktivnejši pristop" pri upravljanju zelo motečih protestov, ki po mnenju vlade povzročajo resne motnje javnosti, kar v bistvu pomeni, da bo predlog zakona policiji dal moč in pooblastila, da zaduši in prepove mirne proteste, ki so v nasprotju z vladno naracijo, kakršna koli naj bi ta bila.
Why We Must Stop This Bill
Throughout the last two years, there have been peaceful protests, rallies, and marches where we have witnessed a pre-Bill "proactive approach" that the police have already been exercising, allowing the use of excessive force, fines, and arrests.

Baton swinging police cause a public nuisance protesting about peaceful protesters on the 26th September in Trafalgar Square London.
We have also witnessed peaceful people being arrested for simply gathering in groups, having a coffee with a friend beside the seaside,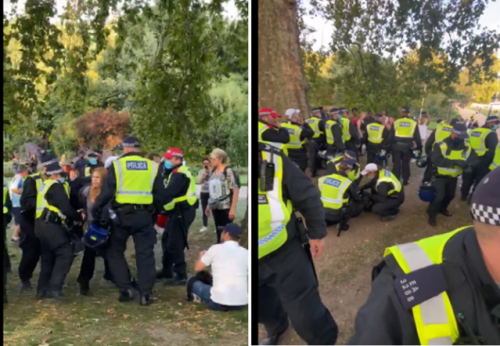 September 2020 Woman arrested for sitting in a London park
Again back in September 2020 at a London rally, a peaceful guest from Hamburg, Germany, the softly spoken Dr Heiko Schöning of the Corona Extra-Parliamentary Inquiry Committee was at Hyde Park and said……..well, not an awful lot really as just as he was starting his speech, he was handcuffed by a crowd of uniformed individuals and arrested and kept in a cell for the night.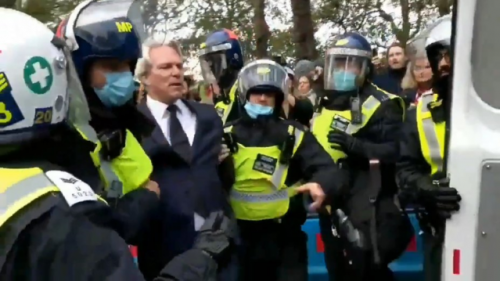 Affording the police further powers is an illiberal, absurd notion for a democratic country where those deemed to be causing a public nuisance by making too much noise, blocking streets and storefronts, or generally "annoying" the public can find themselves arrested.
This is worrying for many reasons, firstly, what constitutes being a "nuisance" or "annoying" is subjective, therefore inconsistencies will undoubtedly occur, depending on what officer is present.
Not So Priti
Despite the already illiberal Bill, Home Secretary Priti Patel was still able to add 18 pages of amendments to it, taking it to a draconian stage, perhaps knowing there would be support from those people fearing the protesters were "spreading a virus"
Therefore, Patel used the "problem reaction, solution, tactic where the masses will believe it was their idea and for their own good.
Serious Disruption Prevention Orders
One such amendment gives the power, through "serious disruption prevention orders" (SDPOs), to ban named individuals from participating in protests or even using the internet to encourage others to do so.
An SDPO can be imposed by the courts on anyone convicted of a "protest-related offence". This category is extremely broad – it includes "infractions" such as possessing superglue near a demonstration.
Criminalising a Way of Life
Secondly, the bill also proposes to introduce new laws against stopping on private and public land without authorisation, with penalties including the confiscation of vehicles. This would have the effect of criminalising the way of life of Gypsy, Roma, and Traveller people.
As The Guardian's view on the police bill explained in a recent article, such extreme restrictions placed on nomadic lifestyles "risk stoking prejudice against communities and individuals who already face serious disadvantages".
New Stop and Search Powers
The amendments also expand powers for stop and search without suspicion around protests. This means the police will have the power to stop and search individuals if they deem it could avoid "serious disruption" or a "public nuisance".
Again this is subjective, yet can happen "whether or not the constable has any grounds for suspecting that the person is carrying a prohibited object" and could also be discriminatory, and use of already existing unfair profiling.
This is Not Democratic
This Bill does not protect anyone, it in fact only gives more power to a government that is already displaying signs of being a dictatorship, they want to arbitrarily limit our freedoms, and restrict the rights of people to protest against the way they are governing.
That may be the "coronavirus act" today, and many do not care as they believe the government narrative, but what about tomorrow? It is allowing the government to slide in any legislation and we will not be able to dispute it.
Democracy in Britain has been on a steep decline for years now, and we are expected to cast our vote and allow the party with the most votes to govern as they wish, and we are being forced to step back and allow them to do this without input from the majority.
Not Your Battle?
Yet, we have been a nation that should be proud of our past achievements that exist due to protests, i.e. the Poll Tax, Suffrage for women, and equal rights, and have protested more recently for lifestyle purposes.
There will be a protest that has been carried out that has arguably changed the lives of everyone in the country, so even if you believe this current fight is not your battle, there undoubtedly will be one for you in the future, but if this Bill goes through you will not be able to protest, you will just have to lump it.
We Have Rights – At the Moment
Our rights are being eroded. We are effectively being told to sit down and shut up and the people that this inaction will adversely affect the most are doing as they are told.
Yet the Human Rights Act was first adopted in 1948 due to the barbaric immoral atrocities experienced in WWII to ensure that they could never happen again, yet here we are….
Article 10 of the act Freedom of expression, which allows the freedom to hold opinions, impart information, and ideas without interference by a public authority or government persecution, has clearly been violated with outrageous censorship of the voices disagreeing with the government.
Advocating this right is not the same as agreeing with opinions as a pre-hypnotised Noam Chomsky said "If we do not believe in freedom of speech for those we despise, we do not believe in it for anyone".
Also, importantly, the violation of this right is almost always as a result of other rights violations which the authorities would rather be not verbalised or fought against.
Now we must fight for the freedom to peacefully protest. The freedom of assembly or the freedom of Association, which is article 11 within our Human Rights Act, is there to protect our right to hold meetings and demonstrate with others. The government would much rather we couldn't.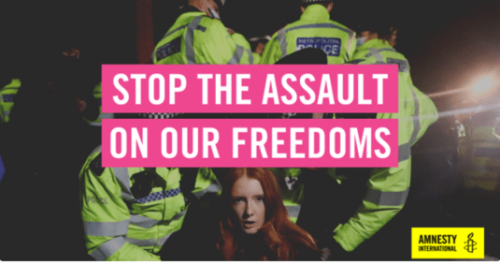 Amnesty says that "The right to protest is fundamental to a free and fair society. It's a right we have fought long and hard for. Without the right to protest, accountability and freedom suffers. They ask us to take action now and call on our Prime Minister to stop the assault on our freedoms. UK Government: Stop the assault on our freedoms
It is a disgrace that this has only accumulated 17,000 signatures! Please add yours!
Or add your name to a signed letter to the Home Secretary from Liberty who state that "Protest isn't a gift from the State – it's our fundamental right and under human rights law, States have an obligation to facilitate protest, not suppress it".
https://liberty.e-activist.com/page/78339/petition/1?ea.tracking.id=email-facebook&fbclid=IwAR3M7G1XcTSNsOOdcPvpr3AOQuZuv8ZofpIzlRp4F7l9KyTutu3s_NcNNdM
Please sign both, or write to your MP, Johnson, Patel, anyone, as long as you fight this, while you still can.