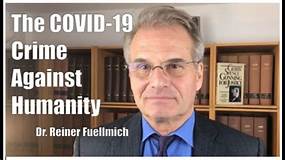 Prosim, preberite in zavoljo vseh delite
Trenutno je v pripravljanju drugo Nürnberško sodišče, ki je pod okriljem tisočev odvetnikov po vsem svetu začelo skupinsko tožbo za ameriško-nemškim odvetnikom Reinerjem Fuellmichom, ki preganja odgovorne za škandal Covid-19 zmanipuliran in organiziran s strani foruma v Davosu.
V zvezi s tem je treba spomniti, da je Reiner Fuellmich odvetnik, ki je v primeru spremenjenih katalizatorjev uspel obsoditi avtomobilskega velikana Volkswagen. In prav temu istemu odvetniku je uspelo obsoditi Deutsche Bank kot hudodelsko podjetje. Po mnenju Reinerja Fuellmicha so vse goljufije, ki so jih zagrešila nemška podjetja, smešne v primerjavi s škodo, ki jo je povzročila in jo še vedno povzroča kriza Covid-19. Krizo Covid-19 bi bilo treba preimenovati v "škandal Covid-19", vse odgovorne pa zaradi civilnih odškodnin zaradi manipulacij in ponarejenih testnih protokolov. Zato bo mednarodna mreža poslovnih odvetnikov zagovarjala največji odškodninski primer vseh časov, škandal o prevarah Covid-19, ki se je medtem spremenil v največji zločin proti človeštvu, ki so ga kdaj koli storili.
Na pobudo skupine nemških odvetnikov je bila ustanovljena preiskovalna komisija Covid-19, katere namen je vložiti mednarodno skupinsko tožbo z uporabo anglosaškega prava. Tu je strnjen prevod zadnjega sporočila dr. Fuellmich z dne 15.2.2021:
"Zaslišanja približno 100 mednarodno priznanih znanstvenikov, zdravnikov, ekonomistov in pravnikov, ki jih je od 10. julija 2020 vodila berlinska preiskovalna komisija v zvezi z afero Covid-19, so medtem zagotovo pokazala, da Škandal Covid-19 v nobenem trenutku ni bil zdravstveni problem. Namesto tega je šlo za utrjevanje nelegitimne moči (nelegitimne, ker je bila pridobljena s kriminalnimi metodami) skorumpirane "klike Davos" s prenosom bogastva ljudi na člane klike Davos in med drugim uničevanjem predvsem majhnih in srednje velikih podjetij. Platforme, kot so Amazon, Google, Uber itd. so si na tak način lahko prilastile njihov tržni delež in bogastvo. "
.
Status of the Covid-19 Committee investigation

a. Covid-19 as a diversionary tactic by corporate and political "elites" in

order to shift market share and wealth from small and medium enterprises to global platforms such as Amazon, Google, Uber, etc.

b. Contribution of the Audiovisual Tax to the reconstruction of a new media landscape that offers truly independent information

c. Making regional agricultural structures secure

d. Making a secure regional currency to prevent a new currency from coming "from above" to be allocated in the event of good behaviour.

e. Psychological considerations of the situation: how did it come about?
Actions for annulment of the approval of a vaccination, filed against the European Commission, trial in New York of the status of PCR tests, German trials, Canadian trials, Australian trials, Austrian trials, trials at the International Court of Justice and the European Court of Human Rights.

"We have seen what has been confirmed time and time again: the degree of danger posed by the virus is about the same as that of seasonal flu, regardless of whether it is a new virus (wholly or partially manufactured) or whether we are simply dealing with a flu renamed "Covid-19 pandemic". In the meantime, Drosten's PCR tests cannot even tell us anything about contagious infections. To make matters worse, the health and economic damage caused by anti-covid measures has been so devastating that we have to speak of a level of destruction that is historically unique. »

"The fact that health has never been an issue is particularly obvious, except that injections of genetically experimental substances disguised as "vaccinations" are now cauing serious damage, including fatal consequences, on a mass scale. The world population has been used as guinea pigs for these experimental gene injections both gradually and extremely rapidly. In order to plunge the population into panic, dangerous and harmful containment measures (even according to the WHO) of compulsory, unnecessary and dangerous mask-wearing and social distancing, unnecessary and counterproductive, were introduced. The population was thus "ready" for the injections."

"In the meantime, more and more people, not just lawyers – and rightly so – are demanding, in addition to an immediate end to these murderous measures, a judicial review by a truly independent international tribunal on the model of the Nuremberg trials. An example of such a demand and a moving excerpt from a speech by the English doctor Dr. Vernon Coleman can be found at the following link: https://youtu.be/T3DNV7v5i74 [Link disabled]

Read more at https://principia-scientific.com/lawyers-promise-nurember-trials-against-all-behind-covid-scam/?utm_source=feedburner&utm_medium=email&utm_campaign=Feed%3A+psintl+%28Principia+Scientific+Intl+-+Latest+News%29
The above link was blocked by Twitter so I suggested people search the title.
Time to reconnect with nature and kindred spirits
We need approximately 3% of the population to wake up, which means acknowledge harm and transform harm into harmlessness. It is suggested we are already there [3%] so let's each do our part by disclosing evidence, which includes informing elected representatives, government agencies, corporations, police chiefs, school boards, etc.
Help spread the news and show your support
Download and share the SOVI PDF – or simply share the link/URL below with others. Please fill out the brief form to add your voice to the Roster of Support of people from around the world who have grown tired of their intelligence being insulted, and who now insist on the Truth based on Real Medical Science. https://www.andrewkaufmanmd.com/sovi/
There is no pandemic [image to share]
https://twitter.com/DeepPol/status/1364959562059689984
Mexico's Decision To Ban Glyphosate Rocks Agribusiness World
"We are a sovereign nation with a democratic government," he continued, "which came to power with the support of the majority of citizens, one that places compliance with our constitution and respect for human rights above all private interests." https://www.naturalblaze.com/2021/02/mexicos-decision-to-ban-glyphosate-has-rocked-the-agribusiness-world.html?utm_source=Natural+Blaze+Subscribers&utm_medium=email&utm_campaign=69be4d37b4-RSS_EMAIL_CAMPAIGN&utm_term=0_b73c66b129-69be4d37b4-388229733
Bravo Mexico for showing man what is possible.
International travelers walk out of Mississauga's Pearson Airport and ignore quarantine rules
Chris Sky educated travelers at Pearson Airport.
Police say that unless there are serious aggravating circumstances involved, such as an offence under the Criminal Code, or any other demonstrated behaviour that places the individual or public in danger, they will not detain individuals who are non-compliant. https://www.insauga.com/international-travelers-are-walking-out-of-mississaugas-pearson-airport-ignoring-quarantine-rules
Covid is a catalyst for man to set ourselves free. Many people are leading the way. The sooner more people join this transition the sooner a new era of justice, freedom and coherence advance. Thanks for doing your part.
Without Prejudice and Without Recourse
Doreen A Agostino