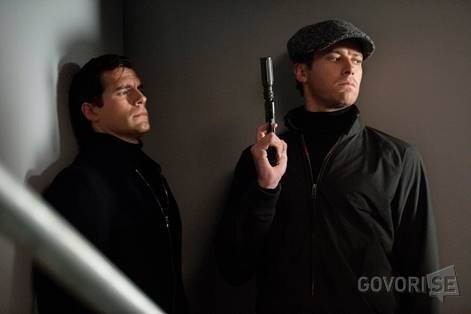 Henry Cavill in Armie Hammer igrata v nadvse sveži obuditvi silno priljubljene televizijske nanizanke iz šestdesetih, kot si jo je zamislil režiser Guy Ritchie.
Dogajanje je postavljeno v zgodnja šestdeseta, na vrhunec hladne vojne, ko morata agent Cie Napoleon Solo (Cavill) in agent KGBja Illya Kuryakin (Hammer) zakopati dolgoletno sovražnost in sodelovati pri posebni nalogi – zaustaviti morata mednarodno zločinsko organizacijo, ki skuša z razdeljevanjem jedrskega orožja in tehnologije s tira vreči že tako krhko ravnovesje sil. Dvojica ima zgolj eno sled, hčer izginulega nemškega znanstvenika, ki je hkrati njuna edina priložnost, da se vtihotapita v organizacijo in dobita to tekmo s časom, najdeta znanstvenika in preprečita katastrofo svetovnih razsežnosti.
Igrajo še Alicia Vikander, Elizabeth Debicki, Jared Harris in Hugh Grant. Scenarij je z Lionelom Wigramom spisal Guy Ritchie po zgodbi, ki sta se je na podlagi TV serije The Man from U.N.C.L.E. domislila skupaj z Jeffom Kleemanom in Davidom Campbellom Wilsonom.