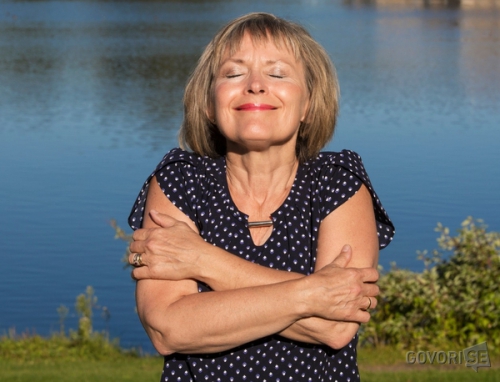 Nekoga moraš imeti rad, pravi Ivan Minatti v pesmi. Koga torej? SEBE moraš imeti rad! Sebe v vseh oblikah, sebe celega, sebe točno takšnega kot si. Ko ljubiš sebe, lahko tudi drugega.
Ljubezen do sebe je prvi korak ljubezni. Drugi korak je ljubezen do drugega, vendar brez prvega koraka ne moreš naresti drugega...Ljubezen moramo torej najprej najti pri sebi, v sebi, saj jo šele tako lahko potem delimo z drugim. Tistega, česar nimamo, ne moremo deliti, kajne?
Ljubezen do sebe pomeni:
1. da

se sprejemamo takšne, kakršne smo

- tudi žalostne, jezne, potrte. Tudi to smo včasih. V takih trenutkih se ne »potlačiti« oziroma utišati, temveč se vprašajte, zakaj ste na primer jezni, kaj vas je prizadelo. Pomagajte si razumeti svoje čustvo – s tem si boste pokazali, da se sprejemate tudi, ko ste jezni. V nobenem primeru ne preslišite sebe, temveč bodite pozorni na svoje občutke, saj to so vendar vaši občutki, to ste vi. In če jih boste skušali prikriti oz. ignorirati, boste trpeli vi;
2. da

se razumemo in se ne obsojamo

, ko nam kaj ne uspe kot smo si zamislili. Zavedajte se, da VEDNO naredite vse po svojih najboljših močeh. In ko vam kaj še vedno ne uspe, to ni zato, ker se niste dovolj potrudili (kot ste najbrž velikokrat slišali, ko ste bili majhni), temveč zato, ker vsega še ne znate. Spomnite se na otroka, ki se šele uči jesti sam z žlico – najprej je večina hrane okrog krožnika, pa ne zato, ker to dela zanalašč, temveč zato, ker bolje še ne zna. Z vajo, potrpežljivostjo in vztrajnostjo mu enkrat le uspe. Tako je tudi z vami – zato naslednjič, ko vam nekaj ne uspe, poglejte nase z razumevanjem, da tega še ne znate in si dajte tako spodbudo za naslednji korak;
3. da

poskrbimo zase in za svoje potrebe

vedno in v vsakem trenutku (seveda ne egoistično in nespoštljivo do drugih ljudi). To, da poskrbimo zase, je naša odgovornost do sebe – kdo pa bo poskrbel za nas, če ne mi sami? Če potrebujemo počitek, si ga vzemimo, če smo lačni, jejmo, če potrebujemo mir in tišino, se odmaknimo v tih in miren kotiček – dajmo si to, kar potrebujemo, pa čeprav bo mogoče naša okolica mnenja, da se to in to ne spodobi, da tega pa res ne potrebujemo.
Z ljubeznijo do sebe raste naše samospoštovanje in samozaupanje – vedno bolj spoštujemo vse, kar smo (naše lastnosti, naš fizični izgled) in hkrati raste občutek, da se nase lahko vedno zanesemo. Postanemo bolj suvereni, pogumni in lažje stopamo po svoji življenjski poti.
Tinkara Filač, svetovalka za zdrave odnose