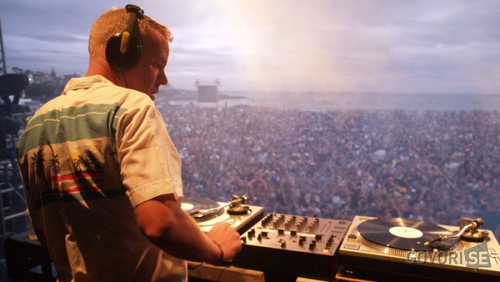 Dan mladosti je dan za izdajo epske kolekcije hitov ene največjih glasbenih ikon našega časa - in napoved nastopa FATBOY SLIMA v AMBASADI GAVIOLI!
Norman Cook, dobitnik prestižnega priznanja Ivor Novelo in 9 nagrad MTV, je na britansko lestvico priplezal s kar 7 projekti: Fatboy Slim ("Eat Sleep Rave Repeat", "Rockafeller Skank", "Right Here, Right Now", "Praise You", "Gangster Trippin'", "Weapon of Choice" idr.), Housemartins ("Caravan of Love"), Beats International ("Dub Be Good To Me"), Freak Power ("Turn On, Tune In and Cop out"), The Mighty Dub Katz ("Magic Carpet Ride"), Pizzaman ("Trippin' on Sunshine") in Brighton Port Authority. Podpisal je tudi danes klasične remikse "Brimful of Asha" (Cornershop), "I See You Baby" (Groove Armada), "Body Movin'" (Beastie Boys), "Satisfaction" (Rolling Stones) in mnoge druge.
»Doživel sem zlato dobo klubske kulture in elektronske plesne glasbe in čeprav ima danes vsak dostop do vse glasbe na spletu in lahko le-to mešajo računalniki, je didžej še vedno tisti, ki izbira plošče in ve kdaj mora zavrteti kakšno ploščo. In zato smo še vedno nepogrešljiv del vsake dobre zabave. Dokler se bojo ljudje predajali glasbi, hedonizmu in skupinski evforiji, ki jo lahko doživijo le v klubu, na plesišču, festivalu in občasno tudi na kakšni plaži, nas boste rabili, da za vas izberemo glasbo.«
S temi besedami je Norman pospremil izid svojega 'ultimativnega žurerskega paketa', ki na štirih cedeje prinaša ob njegovih tudi hite mojstrov, kot so Chemical Brothers, Basement Jaxx, the Prodigy, Leftfield, Gorillaz, Groove Armada, Arman van Helden, Underworld, Justice, Simian Mobile Disco, David Morales, Frankie Knuckles. Seveda je dodal tudi vse svoje velike hite in udarne remikse, zgodbo pa raztegnil še od zlate ere Berlinske Love Parade (Azzido da Bass, Da Hool, Zombie Nation) do današnih velikih elektronskih festivalov (Calvin Harris, Chuckie, Benassi, LMFAO, Fedde Le Grand, Afrojack), ki jih je zaznamoval s hitom "Eat Sleep Rave Repeat". Za piko na i je na četrtem ploščku vse skupaj zmešal še v miks.
Za nas je vse skupaj še posebno zanimivo zato, ker izid te tetralogije "Collection" sovpada z napovedjo Normanovaga nastopa v Ambasadi Gavioli. Na prizorišče svojega edinega nastopa v Sloveniji se vrača 24. julija.