Mlada mamica Jasna Kuljaj uživa družinsko srečo. Ob hčerki Anastaziji in srčnem izbrancu Saši se ji je zdaj izpolnila še ena želja. Skupaj so si namreč vzeli nekaj prostih trenutkov in se odpravili na prve skupne počitnice.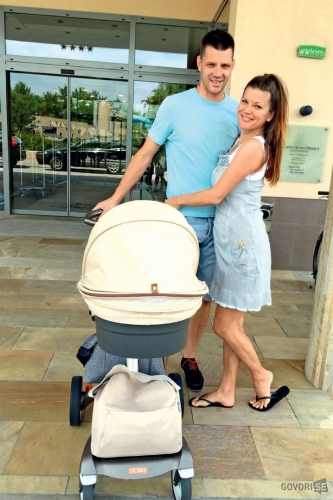 Štajerska je Jasni zelo ljuba, saj jo na ta konec vežejo številni lepi spomini, ki jih bo zdaj delila še s svojo hčerko Anastazijo. Mlada družinica se je namreč odpravila na štiridnevni oddih v hotel Primus.
"To je naš prvi skupni dopust. Naše življenje je sicer takšno, da smo ves čas na poti, saj smo razpeti med Avstrijo, Ljubljano in Dolenjsko, ampak do zdaj si nismo vzeli časa za razvajanje," pove Jasna. Mala Anastazija, ki je upihnila že četrto mini svečko, je prvič v življenju zaplavala v bazenu. V maminih rokah, seveda. "Bolje rečeno, v tatkovih, saj sta vragolije v bazenu ustvarjala predvsem onadva," pove Jasna in se razgovori o ptujskem gostoljubju: "Vedno znova sem presenečena nad prijaznostjo in gostoljubjem, ki ga človek doživi med Ptujčani. Saj ne rečem, tudi v Ljubljani in drugje so ljudje v hotelih prijazni, ampak ta neverjetna ptujska prijaznost je resnično nekaj posebnega. To, kar čutiš od vsakega posebej, je nekaj drugačnega, in tega ne doživiš povsod po Sloveniji. Tisti, ki živimo v Ljubljani, smo vsakič znova navdušeni in ostanemo odprtih ust nad to prijaznostjo, ki nam jo izkažejo."
Dnevi na Ptuju so družinici minili, kot bi trenil.
"Saj veste, kako hitro se dnevi obrnejo mladi družinici. Ima toliko dela sama s sabo, da ji kakšne posebne animacije niso potrebne. V apartmaju smo v kopalnici imeli kad s pipo s termalno vodo, tako da bi sama lahko oddih preživela tako, da bi bila vse dni kar tam. Za moje in Anastazijino razvajanje bi bila resnično čisto dovolj ta soba s to termalno kopeljo."